TAOS Cosmetics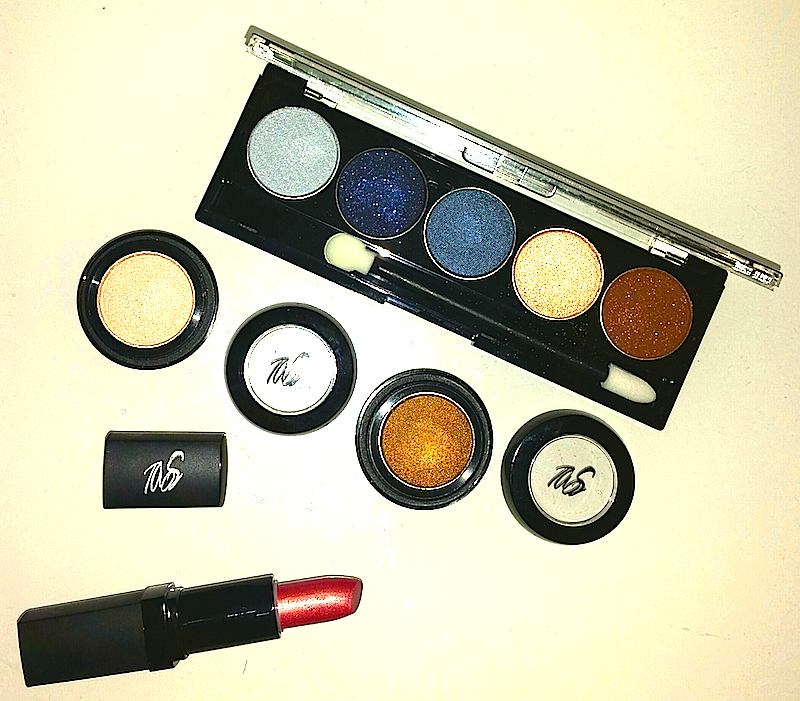 In light of the Revlon fiasco, it's even more evident that we need to continue supporting black owned businesses. Brownbeauty always and will continue to stand for this, but I think it's even more necessary to support brands that represent women of colour. This brings me on to TAOS Cosmetics, a growing Nigerian brand, that has made it their mission to represent all women of colour. The brand set out to produce pigmented products, made with natural botanical ingredients so they are suitable for even those with sensitive skin. I received a five pan eyeshadow palette called Baby's Got Blue Eyes, two single eyeshadows in the shades Bronze (339) and Shiver (247) and a lipstick called Casino (526). The palette consists of five shimmer shades, varying from satin to glitter and has a mixture of cool and warmed toned shades.
The packaging is black plastic with a clear section in the lid, so parts of the shadows peak through and a small, slim mirror is housed underneath the lid with the brand name on top. It's lightweight, compact and comes with a dual ended sponge tipped applicator, but I prefer to use my eyeshadow brushes. As you can imagine from the name of the palette, three out of the five shades are blue toned, the shades do not have names on the palette, just numbers.
The first shade (226) is a pale silver toned blue, the next (513) is a gorgeous dark navy blue, with flecks of blue toned glitter shot through, and the last of the blue shades is (508) a grey toned, slightly gunmetal blue. The last two shades are more on the warm to neutral toned spectrum, 519 is a light gold champagne shade, that works great as an inner corner highlight and the last shade, which seems a little out of place is 514, a beautiful warm dark brown shade with flecks of gold glitter shot through it. If I am going to be picky, it would have been nice to have one matte shade in this palette, however it can pair nicely with any already existing matte eyeshadows you may own or worn without.
The single eyeshadows, are both shimmer shades, and are housed in these cute screw top pots, with a clear see through plastic lid and the brand name on. Firstly is the shade Bronze (339), a gorgeous bronzed gold, this would make a great one and done all over shadow look for women of colour. Next is Shiver (247) a champagne shimmer, which works great as an inner corner highlight. There's minimal fallout from these eyeshadows, they are pigmented, blend well and have good staying power.
The lipstick is a very sheer formula; it's a nude pink with a frosted finish that reflects sort of rose gold sparkles. It's great on its own, on top of a lip liner, think brown, purple or pinky tones or as a top coat over other lipsticks. The lipstick is comfortable to wear and non-drying, with good staying power, and has a very MAC vanilla scent about it.
You can find out more about the brand by visiting their website.