StarGazer French Manicure Set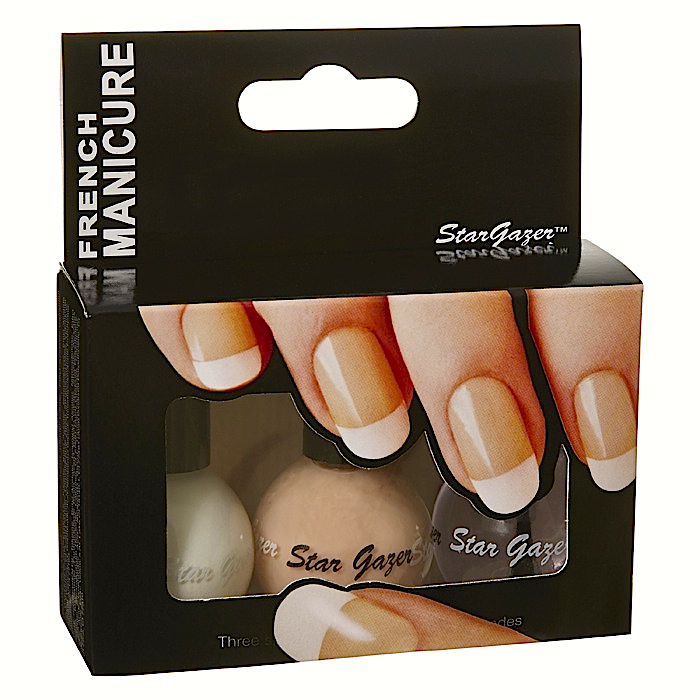 I had never heard of this brand prior to receiving this French Manicure set. It was established in 1978 with a market stall on the Kings Road, the centre of punk fashion which moulded many of the company's ideas. In 1980 they began to expand into department stores and they have increased their product range considerably, now producing hair colouring and cosmetics products. The French Manicure set includes a pale pink base colour, white tip colour and clear top coat as well as stickers. The instructions are to start by applying the base colour, wait for that to dry. Then place the stickers on the nail, leaving the tip of the nail unmasked and apply two coats of the white nail polish just to the tips and wait 30 minutes for them to dry. Then remove the stickers and complete the nail look with the clear top coat.
I'm not a massive French Manicure girl, but sometimes it's nice to have a change, however I found this process very fiddly and long winded. The polishes applied evenly, and gave opaque coverage in two coats, so I will definitely consider some of the block colour nail polishes which only cost £2.50. If you're a French Manicure fanatic and want to recreate this at home and have the patience for it, then this kit will be right up your street and at £4 for three full size polishes you can't go wrong.
For more information please visit the website.