Rococo Chichi Shea Hair Butters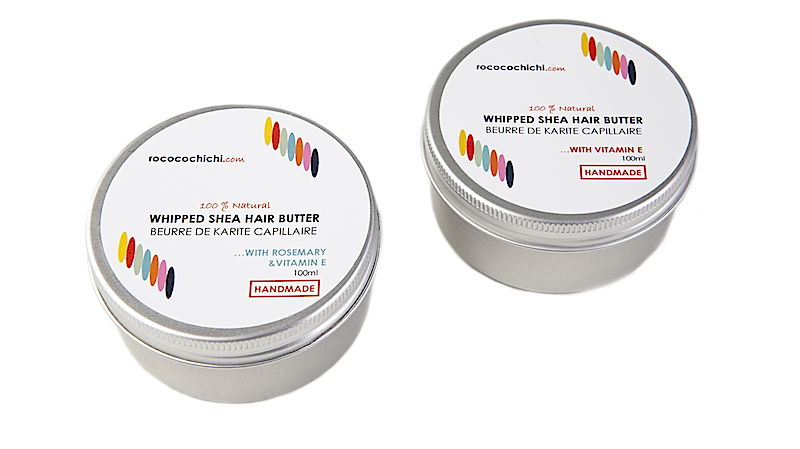 It would be safe to say that Shea Butter is having a moment and no surprise considering the nurturing ingredients that it contains. The new Whipped Shea Hair Butter range by Rococo Chichi is designed to leave your hair hydrated and healthy. You have the choice of a Rosemary scented pot or one that is unscented. The Shea Hair Butters soothes dry itchy scalps and keeps split ends and the frizz at bay. As well as moisturising the hair, styling and heat protection they can be used as a pre-wash conditioner. Rococo Chichi was founded by Ithia Nda early this year and in a cramped market full of shea butter products this brand stands out for its quality and packaging. Both products contain coconut oil, olive oil, sweet almond oil and jojoba wax. The shea butter that is used is raw and has been certified organic by the Soil Association and certified Fairtrade by the Fairtrade labeling organization (FLO). All the ingredients are free from chemicals, preservatives, parabens, SLS, artificial colours and perfumes. Perfect for twist out, braids, bantu knots and coils, dreadlocks and relaxed hair.
I used the unscented shea hair butter on my hair after washing. It really helped to lock the moisture into my hair, making it softer and easy to manage. The contents come in very chic pots which are 100mls but the contents are deeply concentrated so a little goes a long way. They also smell lovely too.
Both products are priced at £7.95 each and you can purchase them from the website.
For more information please visit the website.