Origins Original Skin Renewal Serum with Willowherb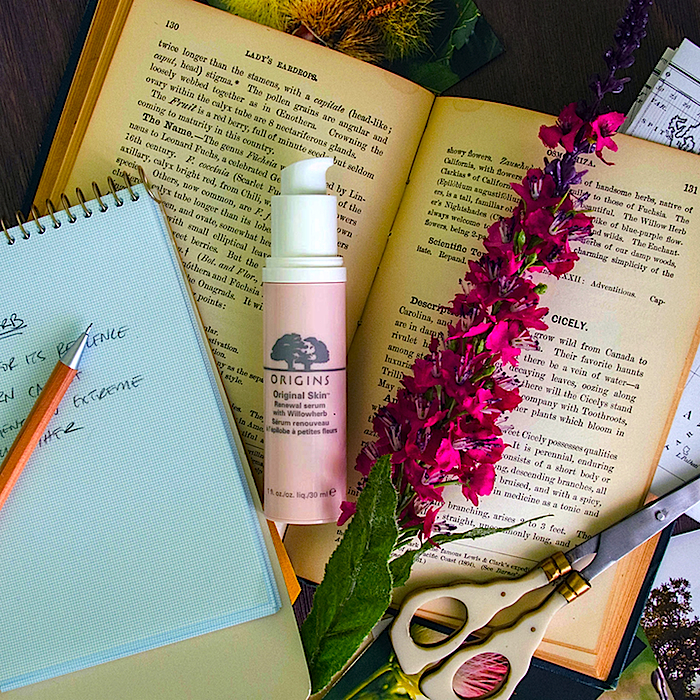 So Origins have released a new serum called Original Skin Renewal Serum with Willowherb that claims it can help skin going through a Quarter Life Crisis aka, some sort of identity crisis at the age of 25. As with all Origins products this is Paraben, Phthalate, Mineral oil and Petrolatum free to name a few. Origins claims this serum will restore your skin's glow in five ways. The first one is that it de-stresses the skin with Persian Silk Tree which soothes and keeps skin calm and helps the skin to rebound. The second benefit is that it contains Chestnut Seed Extract which smooths roughness, gets rid of dull and dead surface cells to refine the texture of your skin to reveal smoother and brighter skin. The serum contains Willowherb which gets rid of dullness and discoloration. There is also Algae which shrinks your pores and controls oil production so the pores appear to reduce in size. Last but not least, this product minimises flaws by blurring imperfections.
This is a very lightweight serum, which absorbs into the skin with ease and has a light floral scent. I don't have issues with large pores so can't comment there but I did see a minor blurring effect once the Serum was applied. However, in the short amount of time that I have been using it (two weeks), I have not seen any of the other claims. Now this is most likely because I haven't used the Serum long enough, my skin is doing good at the moment and not going through a 'Quarter Life Crisis', therefore there isn't much to change. I do think this product is a bit pricey though.
The Origins Original Skin Renewal Serum with Willowherb is priced at £32.00.
For more information, please visit their website.