Luxe Braids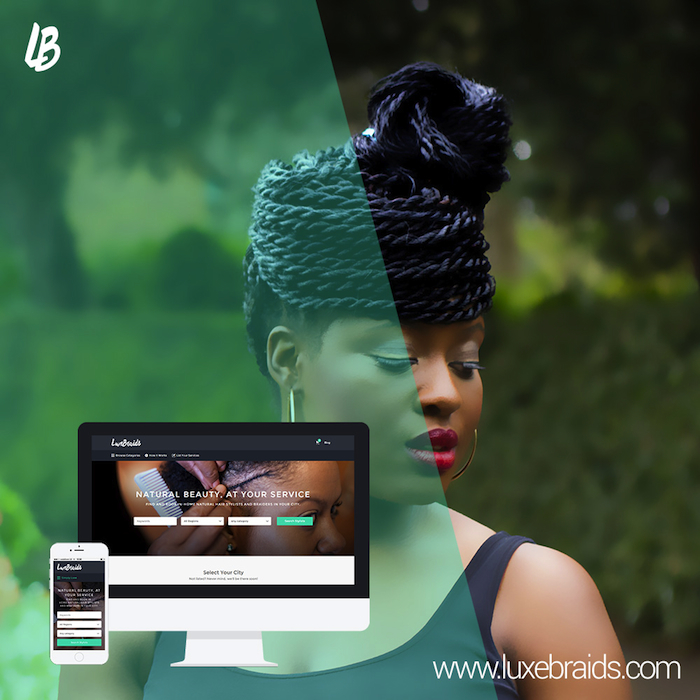 We all know how difficult and time consuming it can be to find a decent hair braider. Even when you do eventually source one you have no idea what to expect in terms of expertise and professionalism. Will they turn up on time or at all? Can they do what they say they can do or will they make a mess of the lovely hair that you have shelled out your hard earned cash for? Welcome to Luxe Braids which is an in-home, on demand service that aims to satisfy your natural hairstyling, braiding and protective styling needs. It is a website that act as a hub for freelance braiders and hair stylists who are dotted around the UK. The aim is that you log onto the site, select a hair style that you are after, enter your location and a list of hair stylists known as LuxePro stylists will be drawn up. Each stylist has a bio, reviews from previous clients, pictures of their work and the hours they work.
All of the bookings as well as payments are made on the website and you will receive an email confirming your booking including updates in case your stylist is running late. All LuxePro stylists are vetted and insured to ensure the highest level of quality as well as your peace of mind. You can also contact stylists on the site and book an online consultation. Luxe Braids will also make a great treat for a relative, you can arrange for them to be pampered in the comfort and convenience of their home, office or hotel.
Luxe Braids was founded by Beverley Paly and Lawrence Suss this year who saw a gap in the market for a sophisticated tech and beauty web and mobile platform for the growing natural hair market. Luxe Braids is being run in London, Birmingham and Manchester with plans for a nationwide rollout. Keep your eye out for the app which is currently in development.
For more information, please visit their website.