Jane Carter Solution Nourish & Shine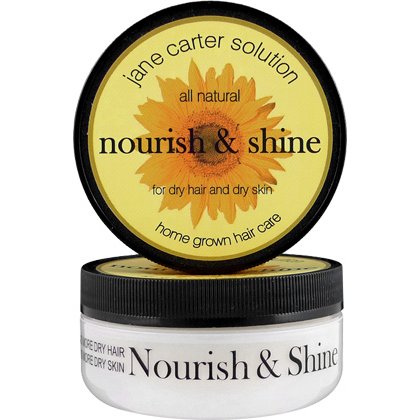 I normally wear my hair in a weave and when my own natural hair grows out from under the cainrow I have to tend to it before it gets brittle. I have used several products but I came across the Jane Carter Solution Nourish & Shine at an event. For those of you who don't know, Jane Carter is a big name in the natural movement and has put her years as a hairdresser to good use by creating a selection of fab products. One of them is Nourish & Shine which contains natural butters with vitamins and essential oils. It has been specifically created to work on medium and coarse hair. My hair is of the latter but it is also in abundance so I have struggled to find the right products to use. However with the explosion of the natural hair movement this has resulted in an abundance of information about hair products and advice.
This product is quickly absorbed into my hair, the density means that you only need a tiny amount. As promised it did indeed leave my hair feeling nourished and softer. It also smells lovely and has a fruity aroma that is not artificial. For such a small pot it certainly packs a punch and you can use it on your skin too. I would most certainly recommend this and when I revert back to my natural tresses I will purchase this little gem of goodness.
Nourish & Shine is around priced around £14.00. For more information just visit the Jane Carter Solution website.
Picture taken by Georgina from That Healthy Feeling.